Why Organization Spot?
I started this small USA based business during the turbulent 2020 year. I felt the pain of being home in a cluttered space and as I crafted new products to help me succeed, I wanted to bring you along with me. I thrive on the joy of seeing you organize and be happy in your place. I love being in my organized home and I want that for you as well. I'm here to help you get there. Let's stay in touch =)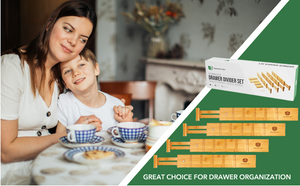 Bamboo Drawer Dividers
Organize your drawers effortlessly with our versatile bamboo drawer dividers, available in three different sizes and two colors. Customize your compartments with the provided insert sizes of 6, 5, and 4 inches, easily fitting into the grooves for flexible storage options. The dividers come with free BPA-free liners that are dishwasher safe, easy-to-clean, and feature an added grip for convenient handling. The clear color complements any decor and protects surfaces from scratches. Our dividers also come with dowels for secure stacking and maximizing space utilization in your drawers.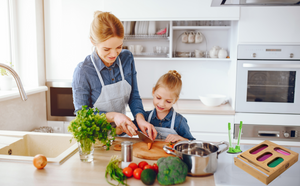 Neutral Ziplock Bag Organizer
Effortlessly organize your kitchen with our versatile ziplock bag organizer. Featuring four compartments that fit most major brands and sizes of baggies, our organizer is a two-in-one solution. It also includes a built-in cutter for dispensing wraps such as plastic, foil, and paper. Additionally, we provide free label stickers for you to customize the compartments to your liking, and a free baggie holder for mess-free and spill-free food storage. Say goodbye to cluttered drawers and shelves and hello to a tidy and functional kitchen with our ziplock bag organizer.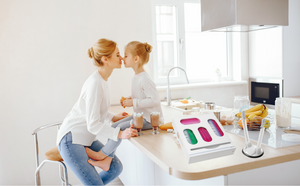 White Ziplock Bag Organizer
Organize your kitchen with elegance! Our white ziplock bag organizer is the perfect addition to your countertop or wall. With four spacious compartments that fit most major brands and sizes of baggies, this two-in-one solution includes a convenient built-in cutter for dispensing plastic, foil, and paper wraps. Customize each compartment with our free label stickers and enjoy mess-free and spill-free food storage with the included baggie holder. Make your kitchen both practical and stylish with our elegant white organizer!
what people say from amazon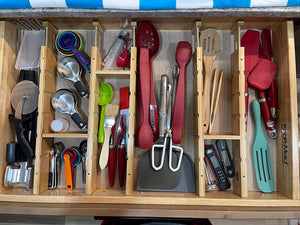 Christine
"We recently remodeled our kitchen and wanted to fully utilize our new KraftMaid cabinets. These dividers are FANTASTIC. I cannot believe how awesome they are for this low price. The wood is strong and they went in easily. There are many different ways to set this up which allows complete individual customization based on what you need. I cannot begin to explain how WONDERFUL it is to be able to see and find everything so easily!!!! I truly love these. I wish I had known about these years ago because they are honestly a must have in every kitchen. We even used them in a super deep drawer that holds dish towels and we utilized the stacking ability with the dowel rods. Very sturdy and I just love it!"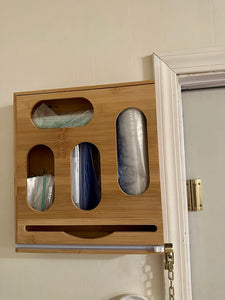 S.E Wright
"It was soooo satisfying to break down all the boxes for recycling! I love that I can have all these in one place! On the wall! Out of my cabinet! Fantastic!The bamboo is pretty and easy to clean. Very simple to hang."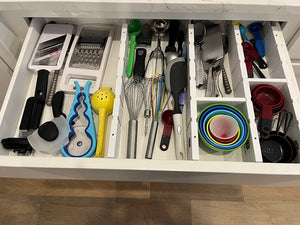 Rahila Khan
"Love how this product made it so easy for me to keep my messiest kitchen drawer organized! It used to take me forever to find anything in that drawer and now everything has a place so easy to find. It fits very nicely and doesn't move around. Nice to have a white option as well since my drawers are white. It gives the drawer a lot neater look. Highly recommend!"
Thank you for choosing Organization Spot for your organizational needs!
It was a pleasure serving you today. Happy Organizing!!!